library

(

GGally

)




#> Loading required package: ggplot2




#> Registered S3 method overwritten by 'GGally':




#>   method from   




#>   +.gg   ggplot2
GGally::ggcoef()
The purpose of this function is to quickly plot the coefficients of a model. For an updated and improved version, see GGally::ggcoef_model() and the corresponding vignette.
Quick coefficients plot
To work automatically, this function requires the broom package. Simply call ggcoef() with a model object. It could be the result of stats::lm, stats::glm or any other model covered by broom and its broom::tidy method.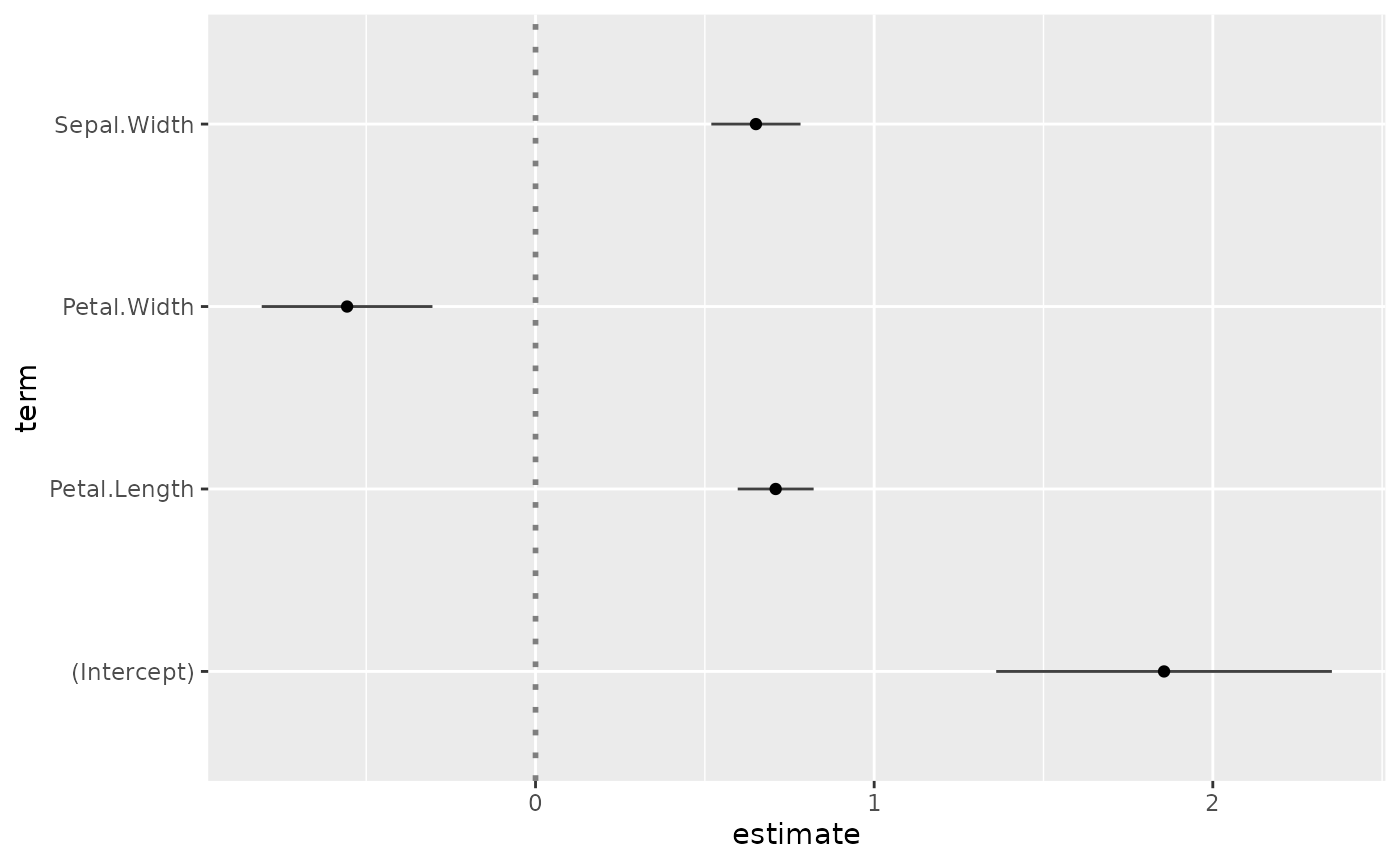 In the case of a logistic regression (or any other model for which coefficients are usually exponentiated), simply indicated exponentiate = TRUE. Note that a logarithmic scale will be used for the x-axis.



d

 

<-

 as.data.frame

(

Titanic

)




log.reg

 

<-

 glm

(

Survived

 

~

 

Sex

 

+

 

Age

 

+

 

Class

, family 

=

 

binomial

, data 

=

 

d

, weights 

=

 

d

$

Freq

)


ggcoef

(

log.reg

, exponentiate 

=

 

TRUE

)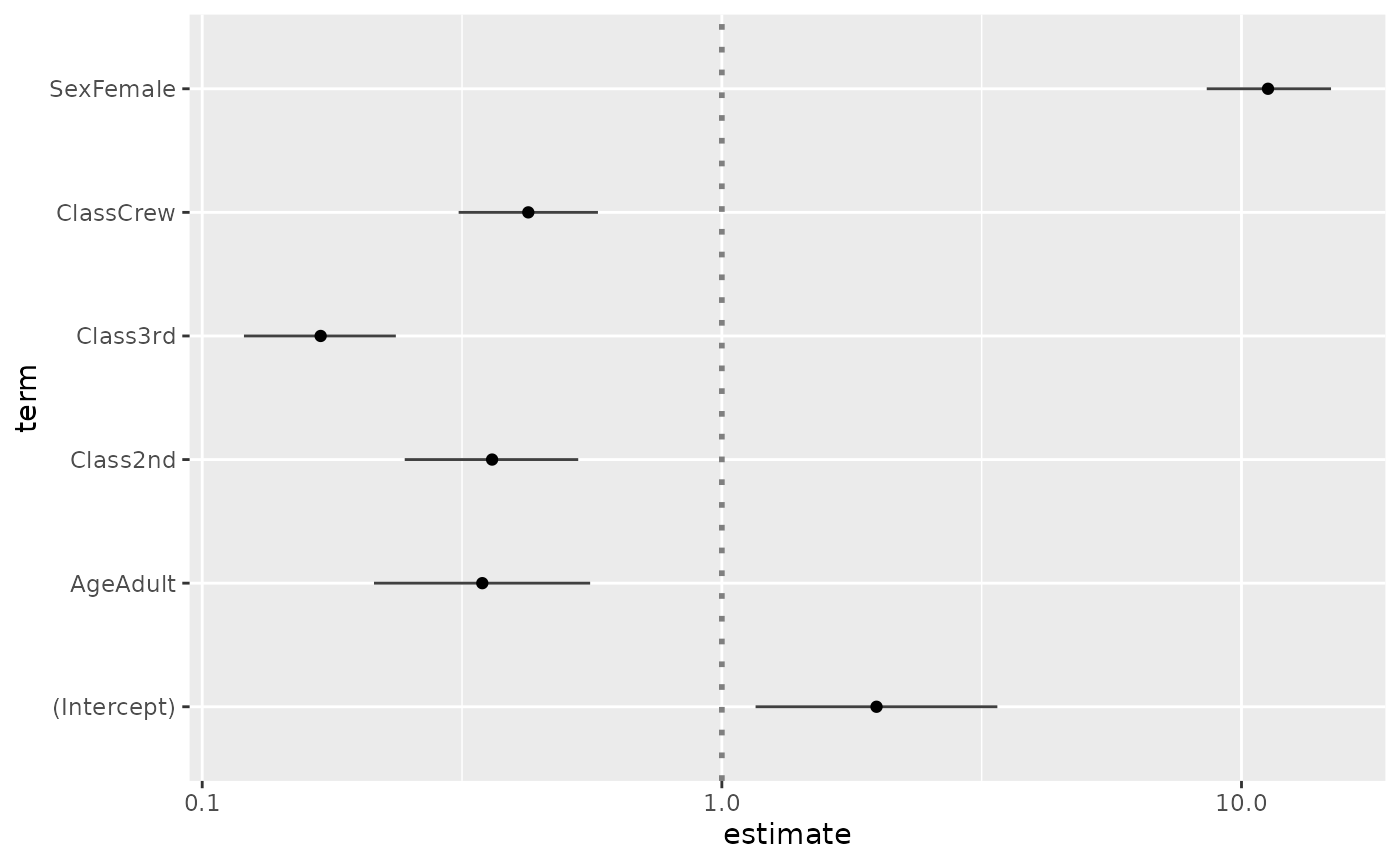 Customizing the plot
You can use conf.int, vline and exclude_intercept to display or not confidence intervals as error bars, a vertical line for x = 0 (or x = 1 if coefficients are exponentiated) and the intercept.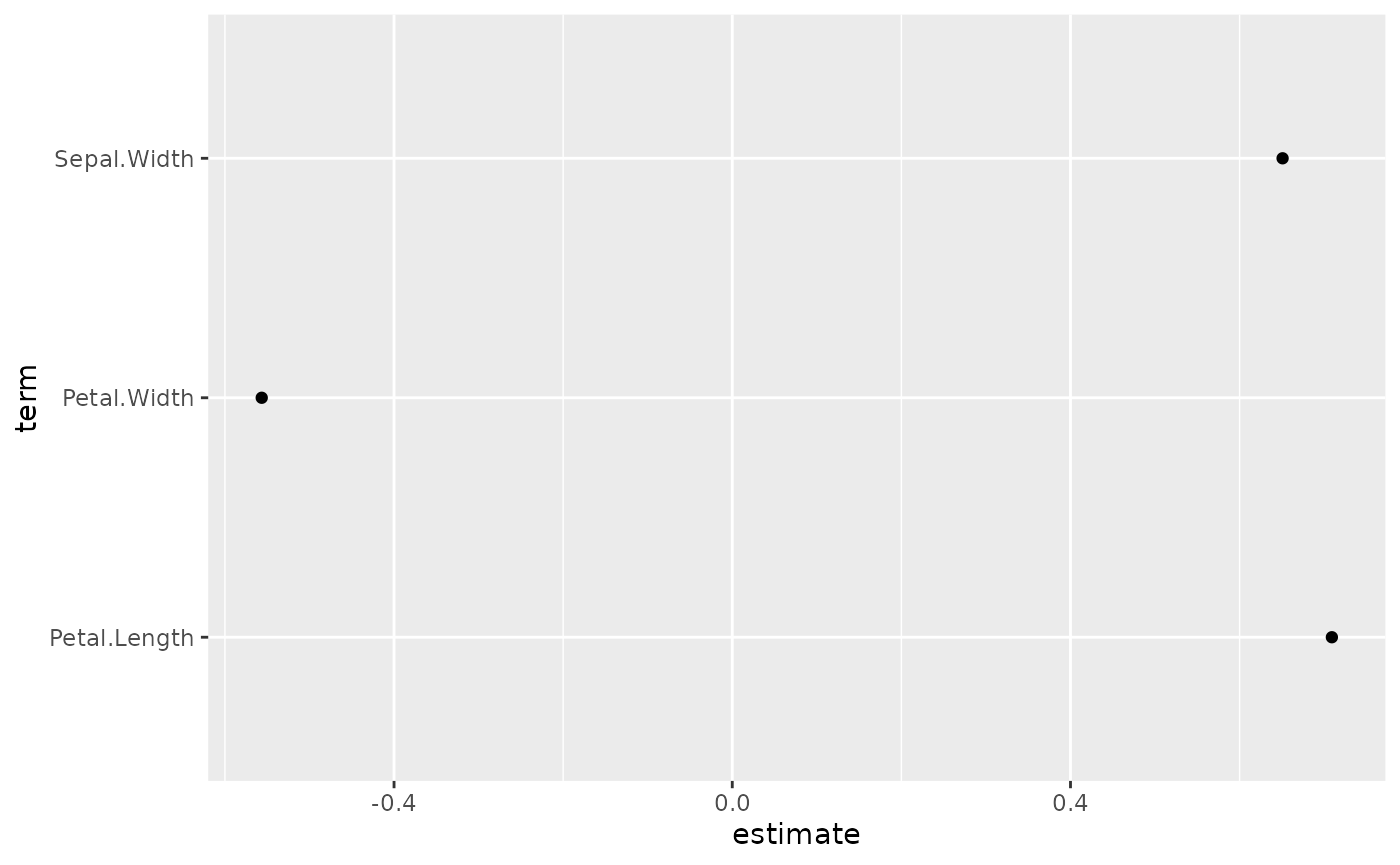 See the help page of ggcoef() for the full list of arguments that could be used to personalize how error bars and the vertical line are plotted.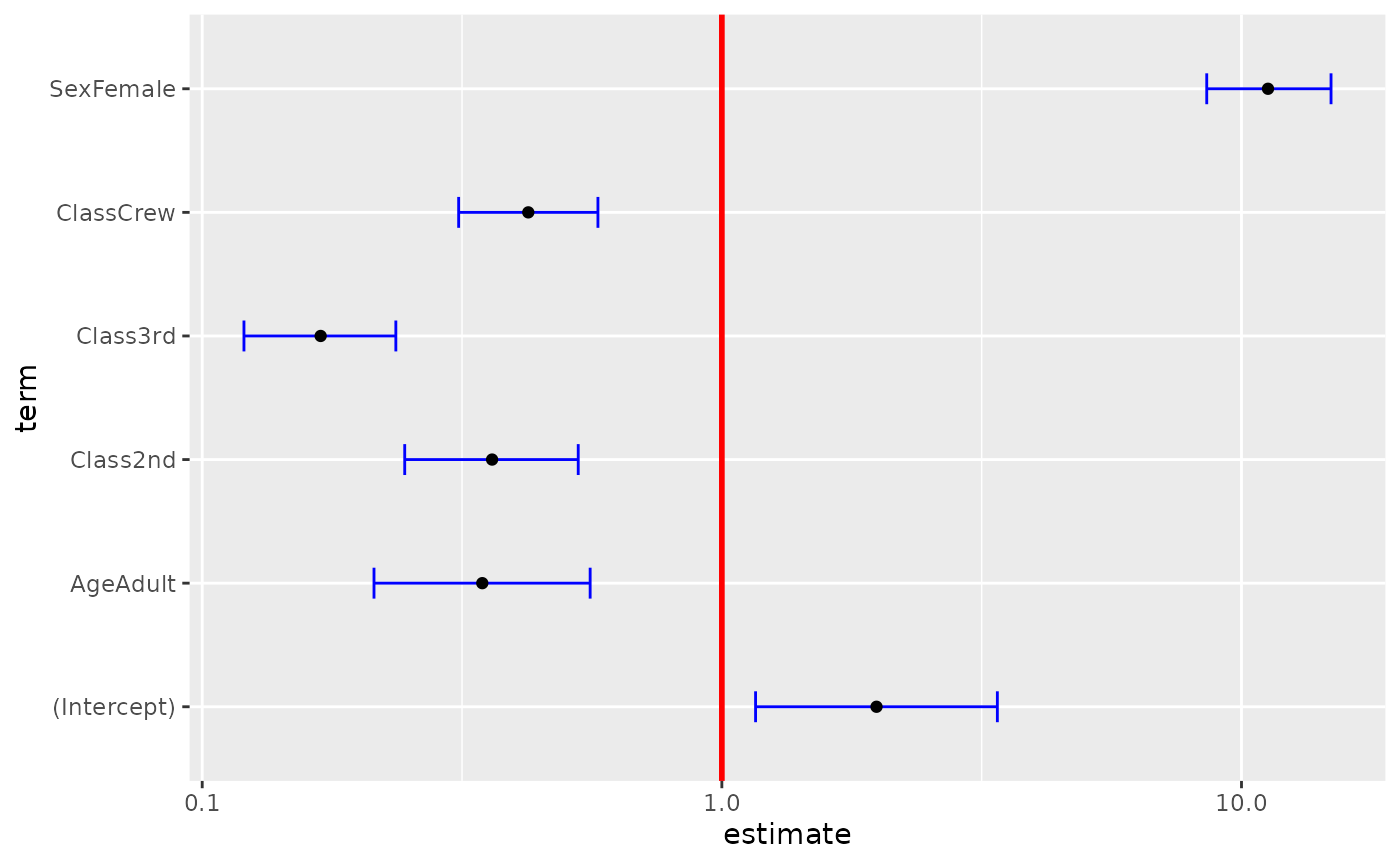 Additional parameters will be passed to [ggplot2::geom_point()].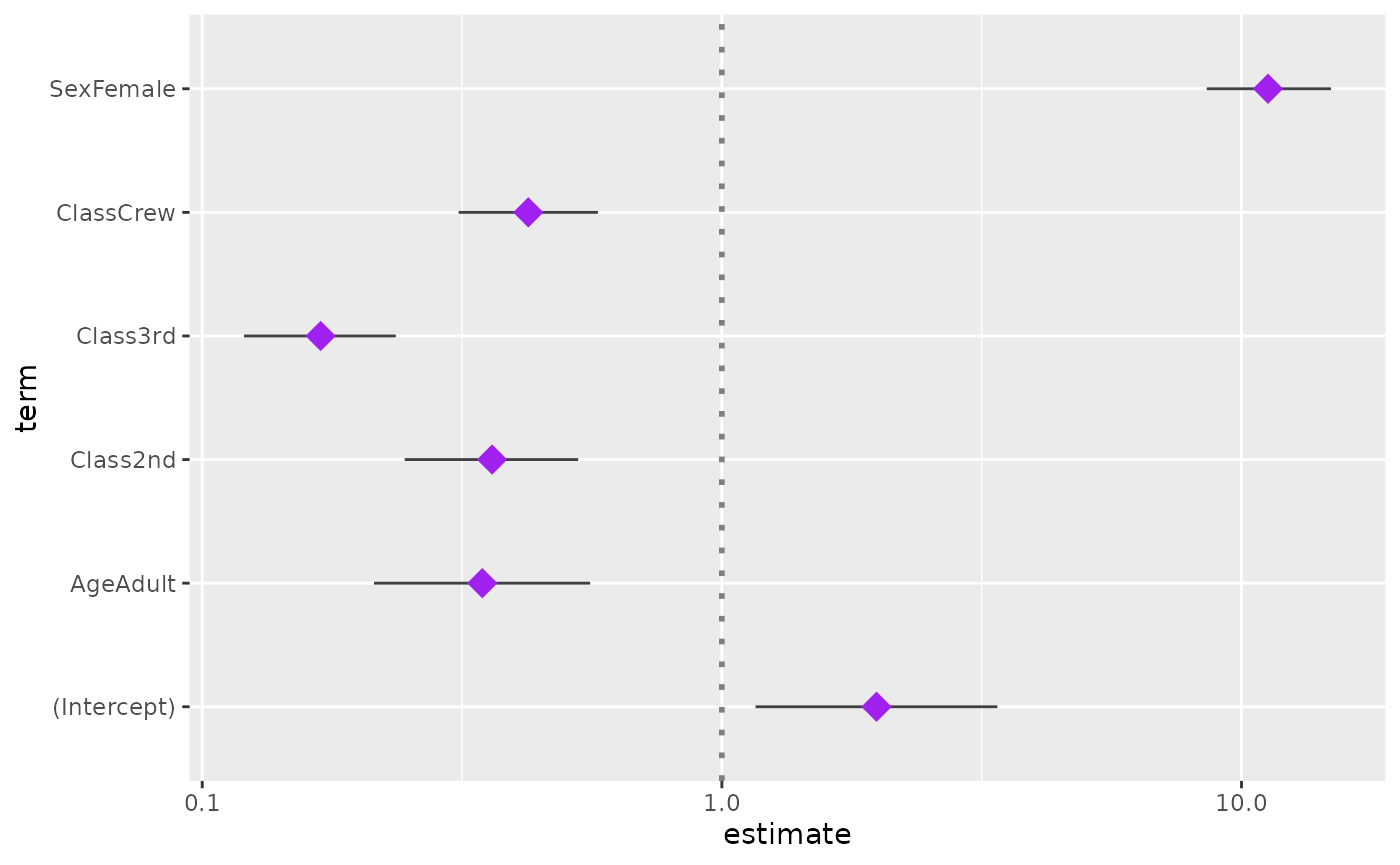 Finally, you can also customize the aesthetic mapping of the points.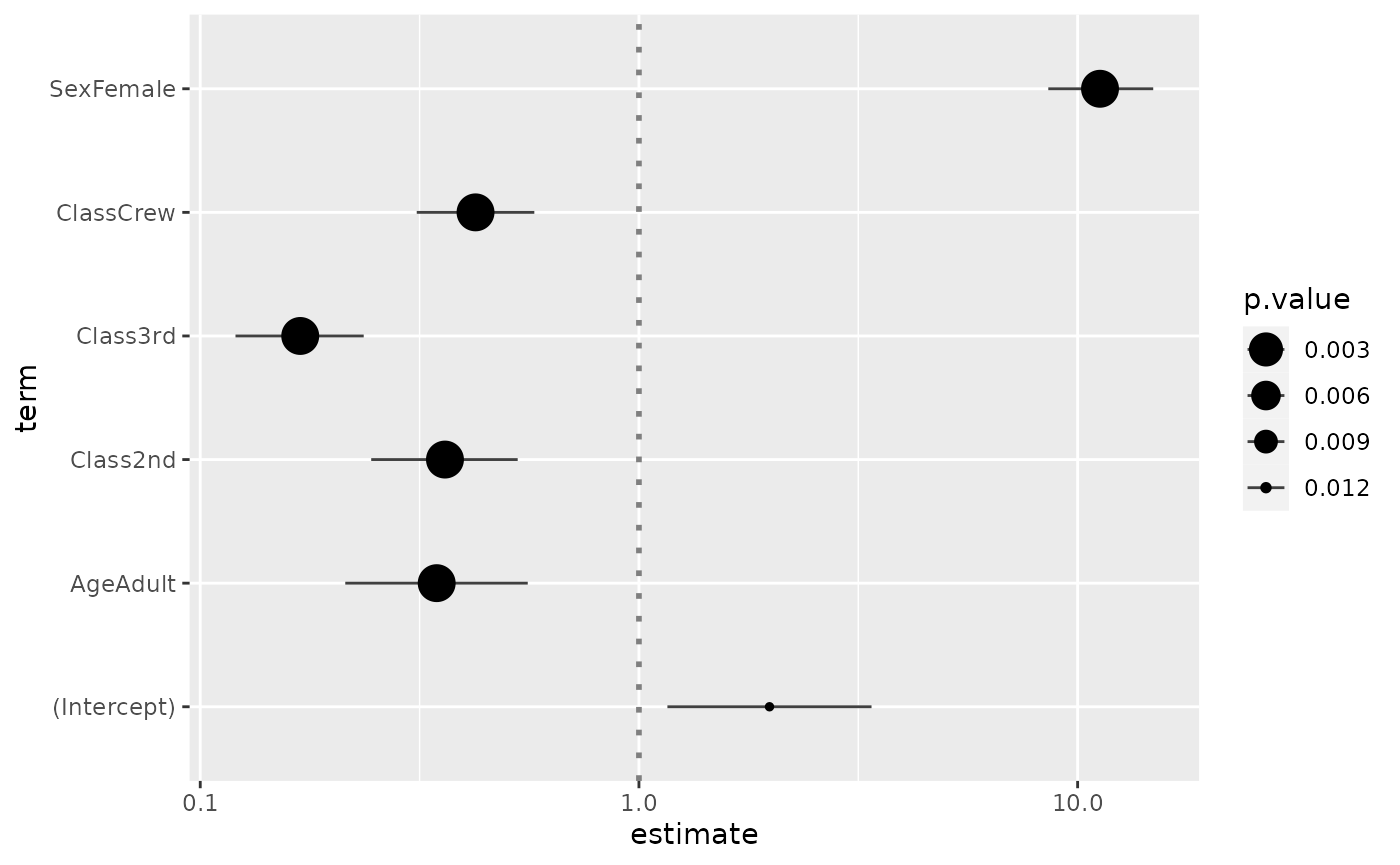 Custom data frame
You can also pass a custom data frame to [ggcoef()]. The following variables are expected:
term (except if you customize the mapping)
estimate (except if you customize the mapping)
conf.low and conf.high (only if you want to display error bars)



cust

 

<-

 data.frame

(


  term 

=

 c

(

"male vs. female"

, 

"30-49 vs. 18-29"

, 

"50+ vs. 18-29"

, 

"urban vs. rural"

)

,
  estimate 

=

 c

(

.456

, 

1.234

, 

1.897

, 

1.003

)

,
  conf.low 

=

 c

(

.411

, 

1.042

, 

1.765

, 

0.678

)

,
  conf.high 

=

 c

(

.498

, 

1.564

, 

2.034

, 

1.476

)

,
  variable 

=

 c

(

"sex"

, 

"age"

, 

"age"

, 

"residence"

)




)




cust

$

term

 

<-

 factor

(

cust

$

term

, 

cust

$

term

)


ggcoef

(

cust

, exponentiate 

=

 

TRUE

)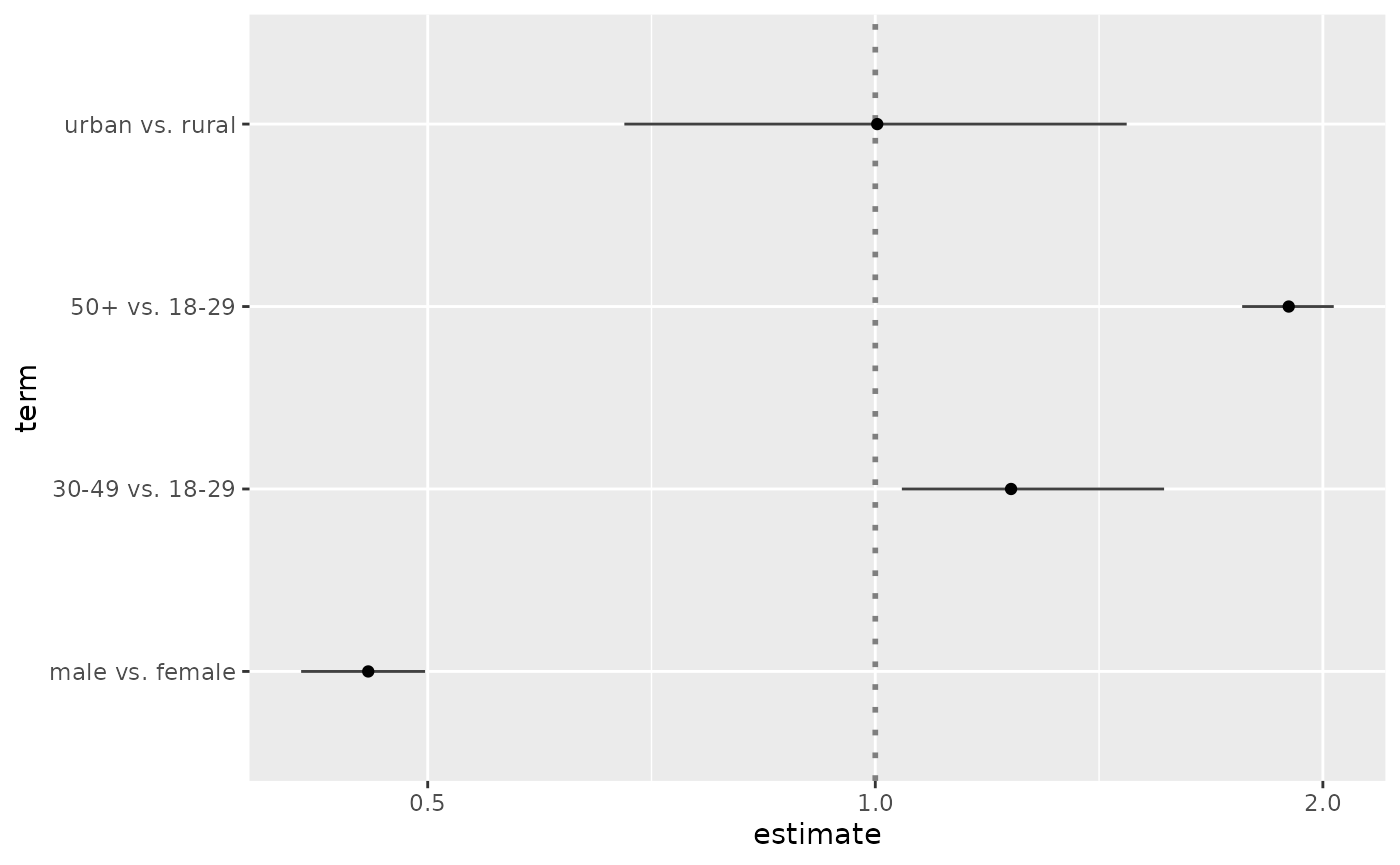 ggcoef

(


  

cust

,
  exponentiate 

=

 

TRUE

,
  mapping 

=

 aes

(

x 

=

 

estimate

, y 

=

 

term

, colour 

=

 

variable

)

,
  size 

=

 

5




)